Davide Imola –
2022 Retrospective
2022 is ending, so I want to write my first-year round-up blog post.
I have already seen developers writing posts like this, so I want to try it on myself. So I start this round-up with those assumptions: It is my first round-up. Of course, it may be better, but it is an experiment. I want to improve it in the future. This blog post is primarily for me. I want to use it as a time capsule to have a special memory for the future. Those who read this blog post are more than welcome to leave a comment or a suggestion!
So let's start with this. I have decided to divide my round-up into the following macro areas:
Business
Health
Friends & Family
Learning & Hobbies
Travel
2023
Conclusions
Business
The business is going pretty well this year. I decided in September to move on in my career. I left my job as DevOps Engineer at Milkman Technologies after two years. I have joined RedCarbon as a DevOps Software Engineer. I am working on the Cloud architecture and the back-end side of the project. I can say I am happy at the moment because I am continuously learning new and cool stuff like Kubernetes, gRPC, and GraphQL. This job change brings me to become a Swiss 🇨🇭 worker, so I had to do all the paperwork to obtain the work permit with Ticino. I have decided to embrace this change, not only for the pay rise but for trying to make an exciting step in my career. I have joined a smaller Start-Up. So I am helping with development team management too. Besides my work activity, I am always eager to learn new things! Since February, I have been trying to help the guys at Fantaculo with their cloud infrastructure. For the curious folks, the project was born as a web app where you could calculate the "ass" of your fantasy soccer league. Currently is increasing the number of functions to help you handle in a better way your team! Fantaculo is going pretty well, thanks to the other contributor, and I am pretty sure we are building something "useful" (at least for me… I am tired of losing my league 😞 ). Last but not least, I have worked on increasing the number of connections with other developers. So, I have joined as Co-Organizer of the Schrödinger Hat, an Italian Open Source Community. This thing led me to talk with many different stimulating folks, and I must say it. I love it! Health Focussing on health, I have to work harder the following year. I have left the gym because I do not find it stimulating enough, and I did not follow any diet, so my weight is not good. I must work on it. Apart from the obesity issues, I am fortunately healthy at the moment.
Friends & Family
2022 has changed different things concerning family and friends. In June, I bought my first home. In the first months of the following year, I will be moving in with my girlfriend, Sara. 🏡 We have been together for more than four years, and I think we might be ready for this new exciting chapter of our life. But, I have to say, I am a little bit afraid because it is a big step to move in together. Speaking of sadder things, in September, I lost my grandfather. They were difficult years at his side because of Alzheimer's. However, losing him was even worse. Could you forgive me for this melancholy passage? 😔 Speaking instead of friends, I made some new ones and saw others again whom I had not seen for a long time because of COVID.
Learning & Hobbies
I would love to make a special section in this annual review for what I have learned this year and my hobbies. Starting with what I have learned, I have studied many intriguing things this year. In the last months, as I said earlier, I started working with GraphQL and gRPC. I have always been interested in studying a little bit more about those two arguments, and now I can do it freely, and I can say I enjoy it. Finally, in 2022 I started working with Kubernetes too! I have studied it for a while, and finally, I can get my hands dirty. Talking about programming languages, I have started using Go a lot. It is particular, and you must accept different aspects of it, but I liked it and am looking forward to learning more about it the next year! Unfortunately, I have not read so many books. The only one that I would like to say something about is "Never Split the Difference" by Chris Voss. I have found different insightful information in this volume to better handle negotiations with clients and companies. Last but not least, hobbies! I have started experimenting and studying the secret art of American BBQ and Sous Vide! I am ready to start my new career as a chef! 👨🏻‍🍳
Travel
I have always been a traveler! I love discovering new places and learning new things from new cultures. During 2022 I made a few trips. Starting with Florence, I decided to visit this beautiful city in March with Sara. I stayed there for three days, from Friday to Sunday. I have seen most of the town and the gorgeous museums. Florence is a beautiful city of art, and I loved discovering it!
Of course, I have to make a little mention of the food! The Fiorentina (t-bone steak) is awesome as always, finally, I had the opportunity to taste the famous Schiacciata of the Antico Vinaio, and, last but not least… the lampredotto sandwich! A-M-A-Z-I-N-G!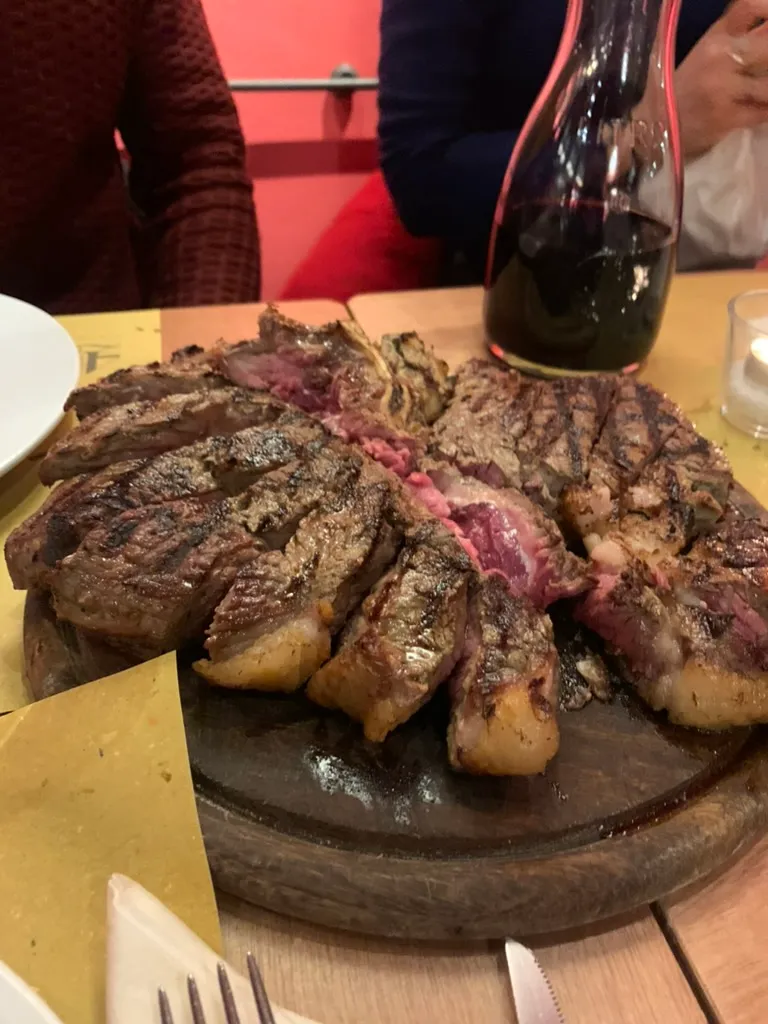 During the summer holidays, I have decided to return to Calabria with my girlfriend, who is from there. We did not travel much, but we still visited a few places near Crotone and Cosenza.
Maybe in 2023, we may plan to go there by car and visit more places, and perhaps we may decide to go for a week to Sicily too. Other small travels I have made in 2022, are to Deutschland to attend a wedding of a friend of mine and to Lugano in Switzerland to sign my new contract and ask for a work permit. I did not have to say many things about those trips. Lugano is a wonderful city, and I would love to visit it more deeply. Deutschland is always fantastic, and I am very happy to have the chance to visit Stuttgart for the first time! The last trip I made was two days in Turin, to meet all the dev team of my company and brainstorm with them! Unfortunately, I did not have the chance to make an incredible trip this year, but I did not have to wait so long. 😉
2023
Here it is, the scariest things of annual reviews… the New Year's resolutions! 😱 I do not know what to say. I did not want to write the same useless New Year's resolutions you can find on the internet. I would love to make it mine, but I am struggling to be creative so I will drop a TODO list, and with the new Annual release, I might be able to better evaluate the year. Ready, set, go!
Eat healthier and try to lose some weight 🥒
Stay healthy (you don't say) 👨🏻‍⚕️
Read more books 📚
Improve my Skills (Golang, Kubernetes)👨🏻‍💻
Start learning Rust 🦀
Finish the work in the house and move in with Sara 🏡
Make a long trip (January is coming… Emirates-Qatar-Oman… 🛳️🤫)
Try to organize something incredible for the community ❤️
Have a speech at a conference or meetup 🎤
Conclusions
2022 has been a fundamental year in my life. I encountered a lot of changes this year, both good and bad. I am looking forward to 2023, as I can see the results of my hard work in the past year. Of course, I am a little afraid of the future, as I am going to navigate through different changes in my life, but I think I am ready to do that. See you next year!